"The Magic of Matisse: Inspiration for Collage" – October 3, 10, 17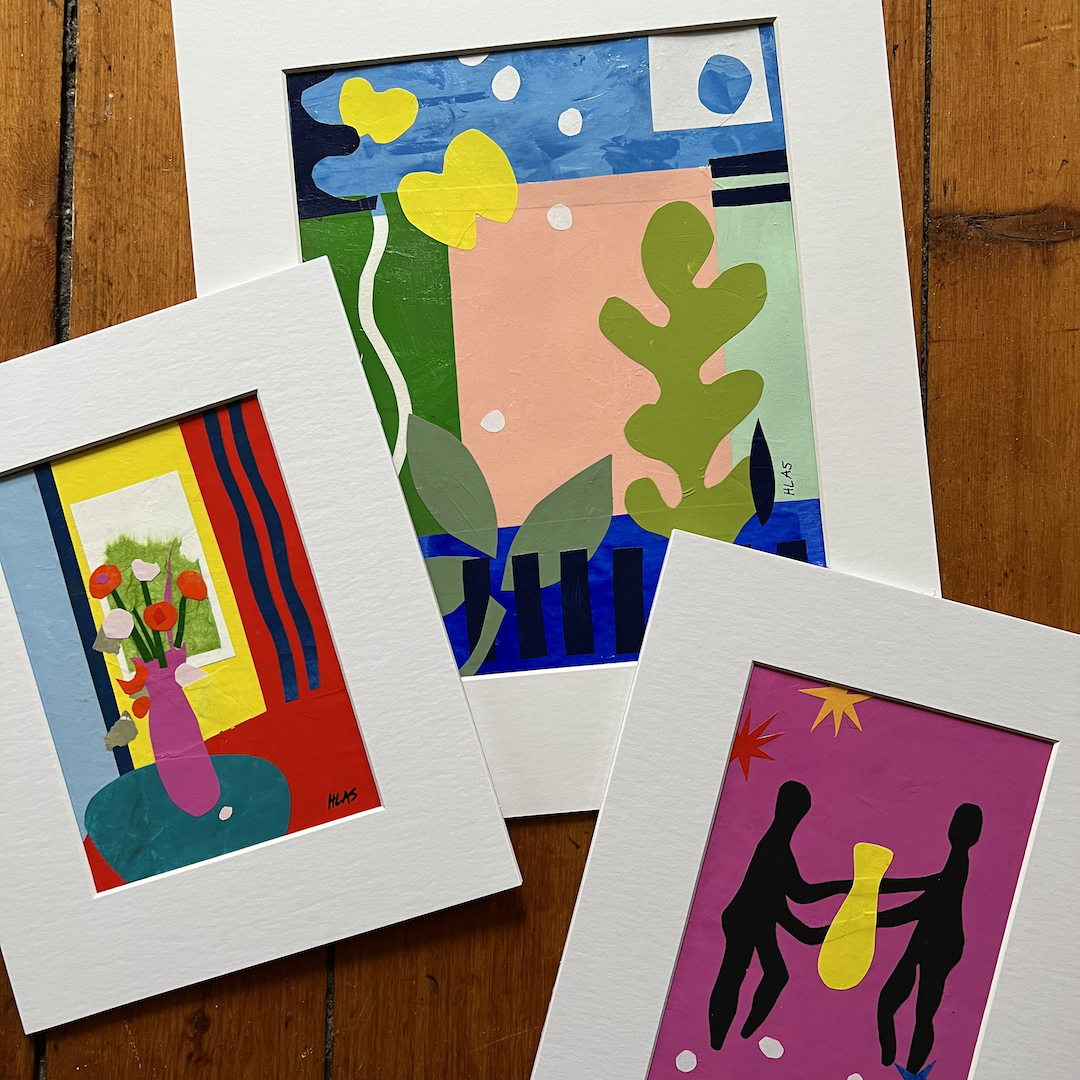 The Magic of Matisse:
Inspiration for Collage

An Online Zoom Course
How do you keep your art fresh and exciting?

Where do you find inspiration for your work?

How do you start a new work of art when you don't have an idea of what to create?

What stops you from being creative?



Find Answers
To find answers to these questions and more, we'll look at the art of Henri Matisse.


Henri Matisse: An Experimenter
Matisse was an artist who never settled. He kept pushing himself, striving to more completely express himself through his art. He was a master of the expressive use of color. His art career spanned over 60 years during which he experimented and reinvented his art style over and over. From his early, quick brushstroke paintings to his bold use of color to his orderly interior paintings to his paper cut-outs and collages.


About the Course
During the course, we'll look at a variety of Matisse's works and use them as inspiration for our own work. We won't be copying or reproducing Matisse's work. Rather, we'll use it as a jumping off point to make our own work utilizing some of his compositional traits, colors, shape ideas, etc.

Each week we'll look at examples of Matisse's art, find elements and ideas in his work that connect with each of us, then use these findings as a springboard to create our own collage work.

October 3 (Week 1): "Matisse: The Man and His Paintings"
October 10 (Week 2:) "Matisse: The Organic Cut-Outs"
October 17 (Week 3:) "Matisse: The Figure"

Classes are 3:30 – 5:30 p.m. (Eastern Daylight Savings Time)

Zoom Classes are recorded in case you need to miss a "live" class.


Follow Up Emails
I'll send you a follow up email after each class with links to the class, class demonstrations as well as other pertinent resource material for you to read on your own time, at your own speed.


Register for All Three Sessions – $115
Register for October 3 Session – $45
Register for October 10 Session – $45
Register for October 17 Session – $45
Join fellow artists at all stages in their art journey as we take time out of our week to make art. During these classes we'll focus on collage.

I believe making art should be a joyful experience and a way to share our joy. These are fun, relaxed classes and a time to create some wonderful art. I don't know about you but sometimes life gets in the way and we put off time for ourselves to make art. I like to think of my classes as a time we carve out in our busy schedules to be with one another and make art. And, of course, learn something new!

I try my best to provide a friendly, relaxed and creative environment.

Make Art. Make Friends.

What's In It for Me?

– Create original art in a friendly, supportive group
– Learn new tips and techniques
– Get feedback from others
– Carve out a time to be creative during your busy schedule
– And more!
First of all, use what you have around. Don't go out and spend a lot of money on extra materials.

For Your Substrate (or Surface) to Make Your Art:
– One substrate for each class. This can be heavy paper, watercolor paper, wood panel, paper board, etc. I wouldn't recommend canvas sheets or stretched canvas for this course. 8″ x 10″ or 11″ x 14″ are workable sizes. But use what you have.

To Make Painted Paper Collage Elements:
– Sheets of regular printer/copier type paper. I like using inexpensive printer paper since it's thinner. You'll need a number of sheets. Maybe ten or so. If you already have painted papers, you might be able to use them.
– Acrylic paints, any brand. I use GOLDEN since I'm a GOLDEN Artist Educator and GOLDEN provides me paint for my classes. The paints can be regular paints in tubes (Heavy Body) or fluid acrylics. Use colors you like. I'd recommend at least red, blue, yellow, green, black and white.
– A tool to apply paint to paper (a wide brush, palette knife, plastic putty knife, old plastic credit card/gift card, etc.)

To Adhere Collage Elements:
– Gloss medium, Soft Gel Gloss or glue stick

Other:
– A pencil, scissors and perhaps a ruler. You might also use an X-Acto knife and cutting mat if you have one.
– An open mind, sense of experimentation and adventure

Optional: – A mat to
"frame" your work

What People are Saying about Tom and His Classes
"One really great part of Tom's classes, is that he is clearly supportive of his students taking the principles he teaches and running with them. To integrate a technique into my own expression is so very fulfilling and truly optimizes what I get from the class."
"With each of Tom's classes I was inspired to work beyond what I had known before and then, like a dog by the bowl, waiting for the next class. With each class Tom taught a myriad of techniques and tips. As a teacher and facilitator, he is exceptional. His classes are packed with useful information - even for someone like me who already had a fair amount of knowledge. Tom is a delightful, warm and caring person. All of this comes through when he shares all that he can in every class. And if that's not enough, he attracts wonderful people too! His students are so supportive and inviting; I think he brings out the best in us."
"I'd always been interested in collage but could seldom find classes. When I first heard about Tom's class, I signed up and was very nervous, and a bit intimidated, as I had little to no background in art. Tom put me at ease immediately. He has a very relaxed, supportive, and encouraging teaching style. His classes are diverse and cover a range of creative techniques. It's a great mix of learning about a style/artist/technique with short demos, and then plenty of hands on art making. Tom also makes himself available for input and questions outside of class. His classes are my favorite part of the week."
"Tom is very creative, warm and encouraging. He is enthusiastic and inspires students to follow their own vision. He is a great communicator and well-organized. His lessons are concise, well-planned and filmed beforehand so they are easy to understand and follow. In addition, Tom makes these videos available to students who missed the class or who wants to review the techniques shown in class. He is open to questions from his students."
"When I found Tom Hlas' classes my creative world changed. From doing collage almost exclusively, I have learned and incorporated several other disciplines in my work. In the classes I've taken for more than a year, we've had the choice to do a new and different project every week. But there's no way to talk about Tom's classes without talking about Tom. In addition to being a great teacher he is a generous, kind and caring man with whom we have a good time in every class. I consider him a mentor and a friend."  
"I love Tom's classes. The Zoom sessions are fun and informal, yet I learn so much each time. Tom and the participants highlight materials, techniques, art styles and themes, and marketing ideas that I've been able to use in my own work. The price is right and very little prep is required by the participants. Working from my own studio with the encouragement of fellow artists and an experienced teacher like Tom is the best!"