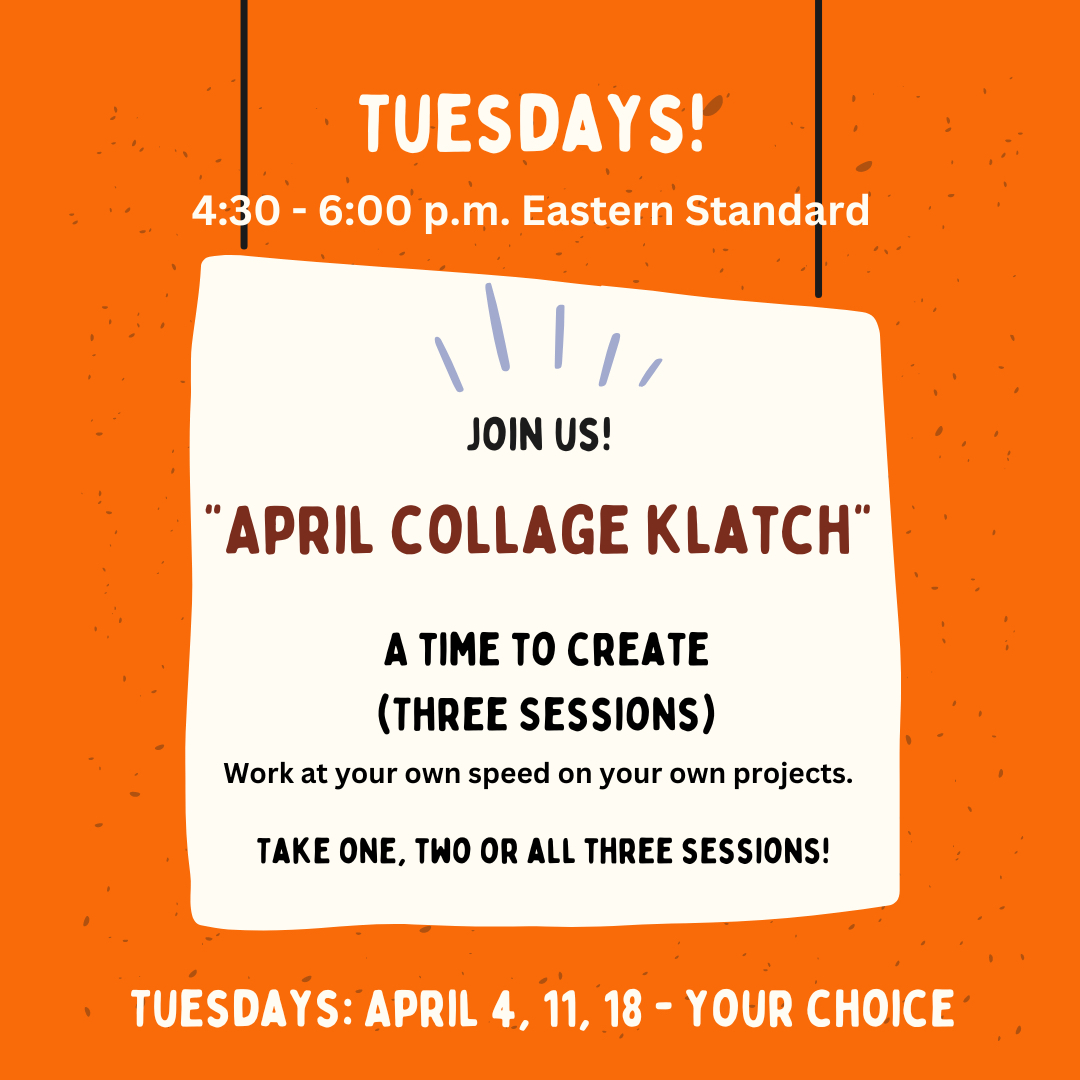 April 4, 11 and 18 (Tuesdays)
There are three sessions. I'll give a demonstration at each session. Register for one, two or all three!

Themes:
April 4 – "Recreation"
April 11 – "Language"
April 18 – "Star Struck"

Demonstrations:
April 4 – "Watercolors: Expressive Mark Making for Collage Papers" April 11 – "Acrylic Paint Transfers" April 18 – "Watercolors: Plant-Based Designs for Collage Papers"

4:30 – 6:00 p.m. (Eastern Standard Time)
These are fun, relaxed classes and a time to create some wonderful art. I don't know about you but sometimes life gets in the way and we put off time for ourselves to make art. I like to think of Collage Klatch as a time of "forced creativity." It's a time we carve out in our busy schedules to be with one another and make art.
Use whatever collage materials you have at hand. I'll work along side you, give a play-by-play narrative, plus tips and techniques! Your job is to work on your own pieces at the same time.
We'll discuss techniques and ideas we may have used in the past or learn new ideas. We chat while we work or you can sit quietly while you create your own collage. Or maybe there's a creative project you've been wanting to work on but haven't gotten around to it. Collage Klatch is the perfect time to do just that!
Enjoy the company of friends or make some new ones.
So get out your materials and get ready to spend a fun hour-and-a-half making art!
What's In It for Me?
– Create original art in a friendly, supportive group
– Learn new tips and techniques
– Get feedback from others
– Carve out a time to be creative during your busy schedule
– And more!
Suggested Materials
Use the collage materials you have on hand. There's no limit to collage materials: painted paper, junk mall, magazines, greeting cards, sheet music, old books, food packaging, stickers. etc. I typically work using 4″x6″ or 8″x10″ substrate paper or cardboard.
Register for All Three Sessions – $45
Register for April 4 Session – $18
Register for April 11 Session – $18
Register for April 18 Session – $18
What People are Saying about Tom and His Classes
"The Coffee Klatch gatherings are a great way to get together in a supportive and fun way to make art, hang out with fellow artists and get art done! Tom is the best instructor and provides guidance when you need it!."
"I've enjoyed Tom Hlas' Collage Klatches! He's open and happy to share his knowledge and expertise with everyone. I feel comfortable sharing with the group and joining the conversation during the sessions. We laugh and learn each week. Sharing our work on the Collage Art and Mail Facebook page is also fun, showing all levels of the medium we love."
"When I hear the word 'klatch,' I think of a group of friends dropping in to socialize over coffee. Well, Tom Hlas's Collage Klatch is the online equivalent, where artists meet over Zoom to collage together. I enjoy the friendly, relaxing gathering and the opportunity to learn and practice collage techniques. Tom offers prompts that I can use to get the creative juices flowing, or I am free to do my own thing during this no-pressure, supportive get-together."
"I love Tom's Collage Klatch. The zoom sessions are fun and informal, yet I learn so much each time. Tom and the participants highlight materials, techniques, art styles and themes, and marketing ideas that I've been able to use in my own work. The price is right and very little prep is required by the participants. Working from my own studio with the encouragement of fellow artists and an experienced teacher like Tom is the best!"
"When I found Tom Hlas' classes my creative world changed. From doing collage almost exclusively, I have learned and incorporated several other disciplines in my work. In the classes I've taken for more than a year, we've had the choice to do a new and different project every week. But there's no way to talk about Tom's classes without talking about Tom. In addition to being a great teacher he is a generous, kind and caring man with whom we have a good time in every class. I consider him a mentor and a friend."  
"Tom, besides being a great artist, is a wonderful teacher. In the past year, I have learned so much about art and individual artists. I have discovered and experimented with many mixed media techniques including color and composition, image transfers, painted papers, journaling, using alcohol inks, just to name a few. Tom is very Henthusiastic and inspires students to follow their own vision. His lessons are concise, well-planned and filmed beforehand so they are easy to understand and follow. His joy and love of art is catching: You can't help but feel the same way!"